Results
Key mastic pilot results
Historical narratives
Explore our collection of curated historical narratives relevant to the mastic cultivation history in the island of Chios.
Interactive timeline
Explore our interactive streaming gallery of Mastic fabulae presenting historical and social events related to the craft of Mastic making in Chios in a timeline format.
Digitisation & 3D Reconstruction outputs
View videos of our 3D reconstruction results and explore our interactive ecclesiastical vestment application.
Craft understanding
Learn about mastic cultivation and industrial production of Chicle.
Chios villages
The architectural environment of mastic production villages is shown through aerial 3D reconstruction; their characteristic structure reveals fortification against pirates and storage buildings for mastic at the centre of the village that were guarded. In this dataset, aerial images were acquired via a UAV overlooking a village. The subject is a large building complex….
Museum of Chios machinery
The following videos show the 3D reconstruction outcomes of factory machines used in the production of the mastic chewing gum, exhibited at the Mastic Museum in Chios.
Explore the results of our craft knowledge collection
The mastic tree – Photographic archives from PIOP
The skinos plant, also known as the mastic tree, is an evergreen shrub. It is a resilient plant which thrives in the arid, stony, dry and poor soil of southern Chios, where the male plants are cultivated. The oldest surviving testimony that confirms the existence of the skinos plant (Pistacia lentiscus) has been found at the site of the volcano on Santorini Island, where fossilized leaves of the plant dating from 50,000 to 60,000 years ago have been found enclosed within the walls of the caldera. The plant Pistacia Lentiscus var. Chia belongs to the Anacardaceae family. It is related to species such as the pistachio tree (Pistacia vera) and terebinth (Pistacia terebinthus). Today the mastic trees are characterized by a variety of subspecies that often differ from village to village. The differentiation is more prominent in the foliage and the height of the shrub, while the amount of resin produced may also vary.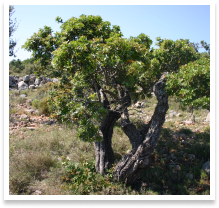 3D reconstructions of tools used in the mastic cultivation
Mastic tools, scenes, costumes