Working with heritage weaving communities in India
India has a long weaving tradition. Although the bulk of the country's textile industry has been industrialised and moved to cities, the knowledge and skill of handweaving still exists in rural areas. Safeguarding this Heritage Craft takes a different form in India than it might in some European countries, for example, as a result of different heritage traditions, and unique challenges and opportunities that exist here. We spoke with Sumit Dang, director of Meraki Signature Private Limited, and Suket Dhir, fashion designer. Dang has been involved in various projects that safeguard weaving heritage through commercial practice. Dhir creates high-end menswear and womenswear designs, using primarily handwoven fabrics, sourced from and created in collaboration with expert weavers living in rural communities.
Same challenges, different contexts
Both Europe and India face the same biggest challenge in terms of Heritage Crafts. The numbers of Heritage Craft practitioners are dwindling, and the population is aging, as young people move to cities or find employment elsewhere. The big difference between Europe and India, however, is the context within which this challenge takes place. In India, this context consists of more significant rural isolation, greater socio-economic differences and cultural differences between rural communities and city dwellers. Where in Europe often local communities can maintain a craft as a hobby, or for example develop a heritage site that can facilitate the safeguarding of a Heritage Craft, this is not an option in most rural communities in India due to poverty, a lack of infrastructure and other socio-political structures. 
The solution surfacing in India is also different from that in most of Europe; it is commercial. For the case study at hand, ensuring weavers receive fair and regular pay for their heritage products is the best way to safeguard this particular Heritage Craft. A good example of a company working in this model is Jaipur Rugs, a company specialising in producing heritage rugs for a global market. This family business works closely with weaving communities and international designers. The needs and traditions of rural communities have shaped the company's business model. 
Traditionally, rural weavers learn the craft within their community, often from a very young age. Weaving is generally one of various means of income, with agricultural work often being another important source of food and income for a family. Men and women weave at home alongside their other duties and children learn in this family context. However, contemporary child labour laws and the country's experiences regarding this issue hinder this traditional way of learning how to weave. Children are not allowed to help out in the family business. As a result, the way families hand down knowledge and skills is interrupted.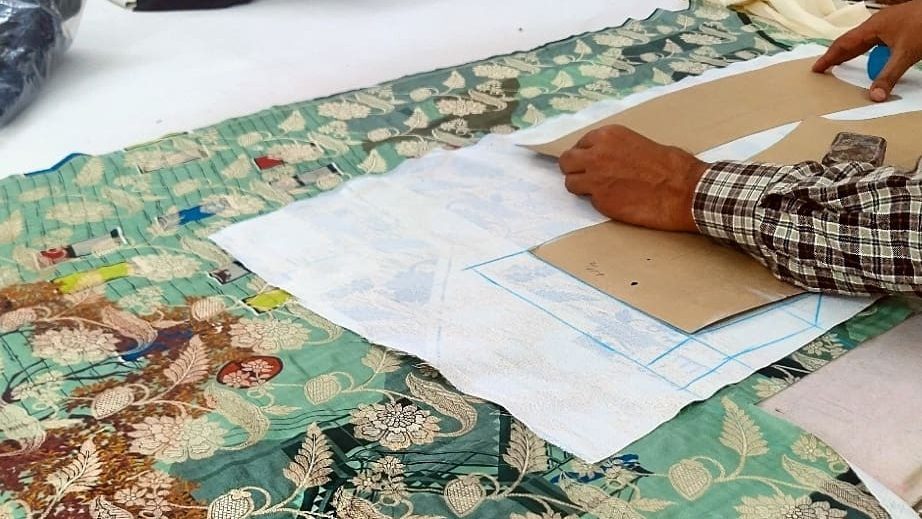 A cottage industry for a global market
Dang identifies two main requirements with regards to safeguarding hand weaving. First, hand weaving needs to provide attractive job prospects. Secondly, there needs to be a robust market for the products that are being produced. Needless to say, these two requirements influence each other. Of course, many Heritage Crafts have developed as a means of creating an income, but in the European heritage field this commercial side of Heritage Craft is sometimes problematised or even ignored. Taking a commercial approach, while respecting the heritage of a craft, can lead to different choices and solutions. 
For example, Dang emphasises the importance of focusing on those opportunities that are likely to yield commercial success. For a Heritage Craft to be monetised, it will need to be able to find a solid (international) market, as well as have a unique heritage quality. If there's a good likelihood both can be achieved, it will be possible to gather the financial investment that is necessary to connect the producer(s) with the market. Therefore, it is important to understand the traditions and potential of the different Heritage Craft Communities. In addition, it is important to analyse the challenges they face when it comes to developing a market for their product. 
As many weavers live remotely, attention must be paid to creating infrastructures for knowledge exchange, source materials and finished products, and distributing finances. Jaipur Rugs has set up a small number of weaving hubs, where weavers can come together to weave, creating one physical space where information, materials and money can be exchanged. However, most weavers did not want to give up their traditional way of working, which traditionally is at home and planned around other activities and care responsibilities. This obviously greatly influences the infrastructure that is needed. Some weavers create their own designs, others work together with (international) designers. Designers need to understand the traditions, possibilities and boundaries of an individual weaver to create a suitable design. Weavers who work with designers can often earn more money, because they create a product that is in higher demand. When an end product is of higher quality, it often requires more time to produce, but it will also fetch a higher price.
Raising awareness
Handmade products cost more than those produced by machine and in India, where mass-produced woven products are readily available and where craft is often associated with charity, marketing Heritage Craft products can be challenging. Cutting out the 'middleman' or working with experienced distributors can help bring the cost down while maintaining fair wages for the weavers at the same time. However, most important, according to Dang, is to raise awareness amongst customers. Explaining the unique qualities of Heritage Craft products is key. The argument that handwoven materials are more expensive will not convince customers to pay the extra price. What are they getting 'extra' when they buy Heritage Craft textiles? 
In marketing Heritage Crafts, Dang suggests focusing on tradition, the human touch, the physical quality, the story behind the product and the fact it cannot be made by machine. Neither producers nor designers are necessarily good at building a brand. Therefore, it is important to invest in gaining this skill. A successful brand is not carried by one or two people, but exists within an ecosystem of people with different practical and commercial skills. It is crucial that the Heritage Craft Community is part of this ecosystem. Jaipur Rugs invests in training local community members and grassroots leaders to achieve this. Finally, creating a strong online presence, including background stories, images and videos can help people to familiarise potential customers with a brand.
Designing with handwoven fabrics
Suket Dhir sources all his textiles from India and 70% of the textiles he uses are woven on handlooms. This has a direct impact on the price of his products. His designs are high-end, but also designed to be worn for a lifetime, to be heirlooms and handed down. Or, as his grandmother used to say: "Buy little, buy good." For this reason, Dhir focuses on creating designs that have personality, but can be worn to various occasions and are made to last. A certain romanticism can come with working with handwoven materials, but in order to build a successful business, pragmatism is also important. Therefore, Dhir focuses particularly on using handwoven materials when they can only be made using a handloom. Fabrics that can be produced by machines should continue to be made by machines. Handlooms would not be able to meet global demands and focusing on the techniques that are unique to handlooms helps preserve them.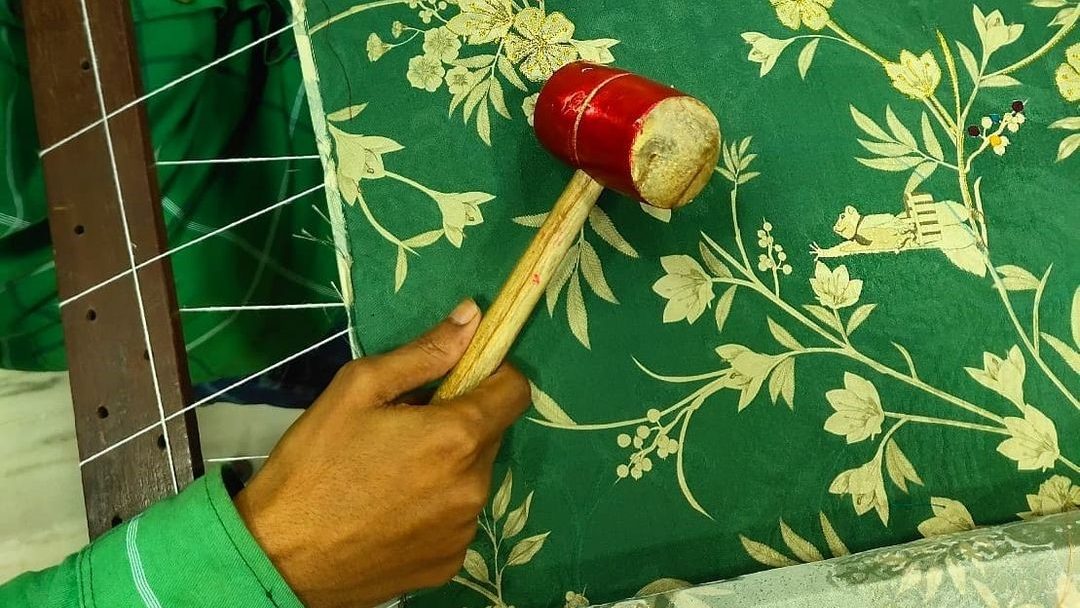 The risk of guilt
When working with comparatively poor rural communities, it is often easy to act on a feeling of guilt. Dhir describes how the first time he worked with weavers from West Bengal, he was so focused on giving people a fair wage, he offered double the price they were used to getting. He was advised not to do it, but felt it was the right thing to do. He was surprised to find his first shipment was late and when he went to visit the weavers to see what was causing the delay, he was met by an angry wife. Now her husband earned twice as much for the same work, he only worked for half the time, meaning his production was falling behind and he had more spare time in which he could spend his money. For the family, this was not a positive change at all. This experience was an eye opener for Dhir and since that time he has noticed that guilt is often also used in sales further down the line. Paying a fair price for a product is often framed as 'charity'. Many campaigns for fair fashion focus on the people making the clothes, and play into a feeling of guilt with the buyer: The poor weaver deserves a fair wage. But, as Dhir puts it: "There's no improvement to the livelihood of the person who makes your clothes just because you see a picture of them." What's more, this approach ignores the mastery and skill a weaver has developed. This is why Dhir believes in focusing on the quality of the craft and creating high-end made-to-last pieces with high quality fabrics.
Many rural communities create their own distinctive weaves that can only be created on a handloom. Dhir sees potential to elevate these weaves and give them a cult-like status. Just like, for example, Japanese samurai swords have gained a recognisable status, resulting in people being willing to spend the money for an original, handmade sword. This is, as Dhir sees it, another way of building a 'brand'. How can one present their traditional craft in a way that translates its traditional value into monetary value? 
At the same time, it is important to contemporise fabrics. Traditional weaving methods can be maintained while using more contemporary colours, for example. Dhir advocates celebrating the craft, the making, which he sees as distinctly different from the often-used trope of empathy, especially in the context of charity. The people making the products will come and go, but the craft, the art, will remain as long as it is passed down. Dhir believes focusing on the inherent quality of the craft can provide better chances of gaining a fair price for a product. If the craft itself is elevated to a cult-like status, there will always be people interested in learning it. The craft would not have to rely on children following in their parents' footsteps, something that will inevitably become rarer over time. 
His biggest challenge now is to reach a global audience that might be interested in his designs. Where cheaper brands can rely more on online sales, handwoven materials need to be touched to convey their quality and value. There is an untapped potential in the longstanding heritage of handweaving in India which could fuel the birth of true luxury brands.
Based on an interview with Sumit Dang, director of Meraki Signature Private Limited, conducted on 30 September 2020, and Suket Dhir, fashion designer and winner of the   International Woolmark Prize 2015-16 on 12 April 2021.