When Thibaut Nussbaumer fell from a horse in his teenage years, he had no idea at the time that it would set him on a path to becoming a distinguished member of an exciting new wave of artists working in one of the more elusive craft-making niches: glassblowing. His arm broken from the fall, Thibaut received doctor's orders to employ his hands with some tactile tasks in the service of regaining his dexterity. As well as practising piano, one of his tasks was learning to work with clay, which instilled the spark of a love in him of working with tangible crafts. Waag's Harry Reddick spoke to Nussbaumer, founder of glass atelier TiPii in Toulouse, about his love for crafts and the importance of passing on his knowledge and skills.
The magic of glass
After his fall from a horse, during the end of his schooling years, Nussbaumer's class was taken to a one-week glass workshop at CIAV. This is where the spark for crafts blossomed into a more consuming passion. "We were playing little designers," he tells. "We were making sketches, which the craftsmen realised. They were bringing our sketches to life. This was extremely exciting [to me] because I got bored with the theoretical stuff we were doing before that point. I was missing something real. And glassblowing was pretty real."
Having reached a crossroads upon finishing his secondary education, Thibaut pursued that creation of something real in glassblowing. He signed up at CERFAV, in Vannes-le-Châtel; one of the three glassblowing educational institutions that exist in France. His four-year learning there was buttressed with a practical and theoretical internship at the Baccarat crystal factory near Nancy.
In these educational vocations, he managed to tap into a rich vein of knowledge and tradition of glass-blowing in France, which in itself is a singular strand of a much more ancient and globally-utilised craft, with evidence abounding of decorative glass from millennia past. For Thibaut, the way that this tradition has evolved and adapted to different historical and locational contexts is part of its magic.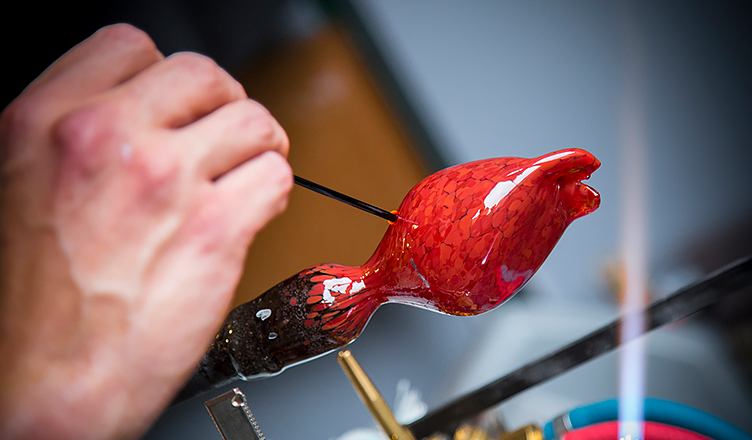 "There are a few different aesthetic ways to work with glass. There is a Scandinavian wave, a Venetian style, and different aesthetic in the Czech Republic too. I travelled and grabbed a lot of details of how they are working, how they are using tools and how they are creating and working with their inspirations. Glassblowing is extremely playful and really sensual, with soft curves… it's really subtle and soft."
Learning curve
Glassblowing itself requires a furnace in order to melt glass, with which the glassblower uses a blowpipe to shape the molten glass. Thibaut spoke of some of the perceived barriers to entry into the field of glassblowing being the cost, including the cost of the furnace and the natural gas to continually heat it. However, the craft in itself can be enjoyed by people completely new to it, in much the same way as Thibaut first experienced in his youth, provided there is an expert and the materials to facilitate the process.
Past this initial entry point however, the craft requires a much more sustained and detailed approach to both learning technique and practising that dexterity. Thibaut said he wasn't happy with what he'd made for his first five years of learning. Having put in the years working on his technical prowess, Thibaut is now able to spend more time on the 'poetry and the soul' inherent in the pieces rendered from the glassblowing process.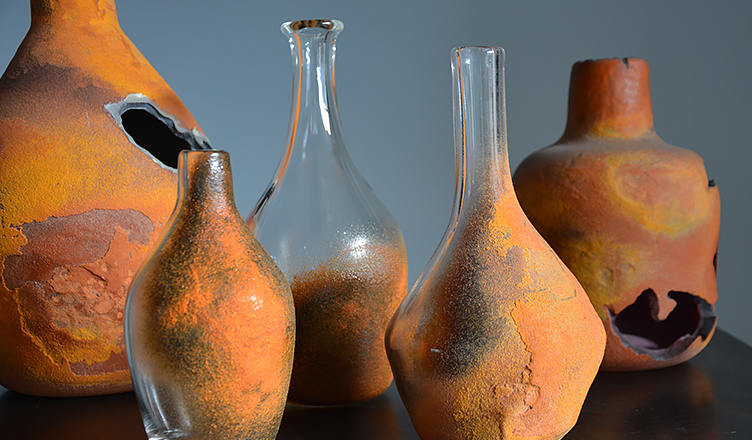 Blow It Yourself
In an attempt to bring both the romantic inspiration of glass and its technical tradition to a wider audience beyond the niche of the academic, Thibaut has founded TiPii Atelier, a glass workshop in Toulouse, together with Patricia Motte, a friend from CERFAV. One of the unusual features of the TiPii Atelier is this focus on making the craft more accessible. He even runs BIY (Blow It Yourself) sessions offering basic glassblowing lessons where their expertise helps the attendees (both children and adults) create simple blown glass items. In this way, Thibaut hopes to address the lack of knowledge about glassblowing in France, both in terms of the required resources and the methodology underpinning it, with the latter being something that teaching allowed him to personally understand on a 'deeper level'.
"Glassblowing is extremely rare, and I felt I had to save and pass on this precious knowledge," Thibaut explains. "This workshop at TiPii is the only one in 100 kilometers around, so my idea was to bring glasswork into an urban frame. That's something that is really new, as small workshops involve people and help show people how it's made. Quite a lot of people were searching to find out how to get involved in glasswork, and this is something we can now show them how to do together. There is a soul in such things, and everybody can feel it, you just have to offer them the opportunity to understand it and to see it. This is my job, to share it with as many people as I can."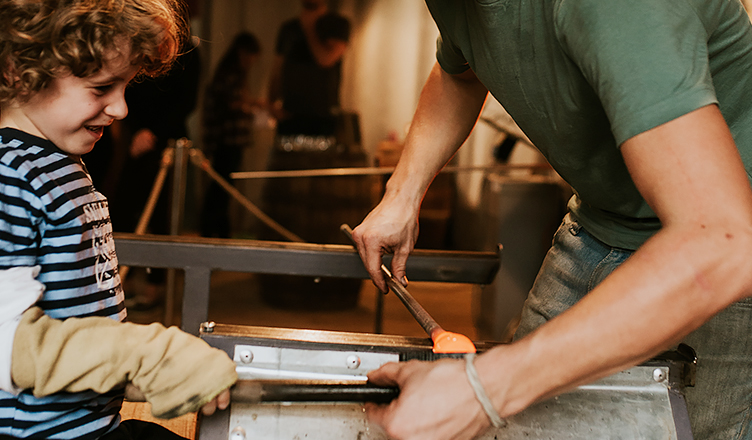 Many of the children who came along to these workshops ended up returning on a monthly basis, and have since become familiar with the names of the tools and techniques, and have ended up passing on word of their experience to other children in school or in their social life. In such a way, the same spark that encouraged Thibaut to return to the life of craft as a youth is being spread to a new generation, simultaneously returning the craft of glassblowing to the wider community.
Thibaut found that he took the art of working glass into his identity. "It is part of me, glass belongs to my life now." Perhaps some of these children who were given their first taste of the beauty and the intricacies of glassblowing will take it with them into their life, becoming part of the world of heritage that glass represents.
Written by Harry Reddick (Waag)