The artist Eirini Linardaki creates artworks using a variety of textiles coming from many places throughout the world. Each of these pieces carries its own story and at the same time, reveals the history, the way of thinking and the experiences of people who used it, in simple words what we now call cultural heritage. Although, the interesting fact is that the cultural heritage is captured and presented as a form of art and entertainment, and is made accessible to everyone.
The team of  FORTH ( Xenophon, Nikos, and Ilia) had the opportunity to meet Eirini Linardaki on their flight to Paris in anticipation of the plenary meeting of Mingei Project, where due to the strikes that were going on at that time, they shared a cab and had the time to talk about her work. The artist informed them about the exhibition that she was commissioned to do in Heraklion, Greece, in continuation of her project in NYC and Paris. Afterwards, when the exhibition was installed, they visited it and had an interview with her. It is also worth mentioning that our team met the artist at her atelier, where in the framework of an interview, they had the opportunity to discuss about the way she creates her artworks, the source of her inspiration, and the importance of children's participation in her projects.
The artist
Eirini Linardaki was born in Athens and studied art in France, where she lives for two decades. She lives and works in France, in the United States, and on the island of Crete. The artist deliberately creates happy images and colorful "bursts" of enjoyment and energy with children sharing their daily lives, since she thinks that childhood is the place from where all we come.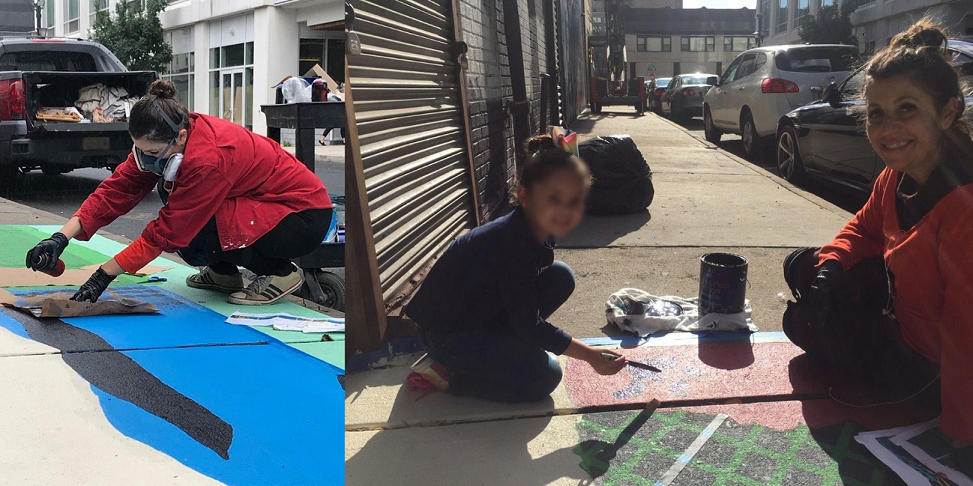 She created public art in New York, Paris, Athens and Heraklion and she was commissioned for several public art installations by the NYC Mayor's office for climate change, the NYC Parks and the NYC DOT. Her public installations are currently on view in Heraklion, Athens, Newark, NJ, Queens, and Brooklyn, NY. She often works in collaboration with communities and schools to develop her installations. In her latest body of works she uses archival material and Wikileaks footage in order to incorporate conflict imagery in her discourse.
The inspiration of the artist's project
Eirini Linardaki creates artworks using an innovative method mainly based on her childhood experience. When she was a child, she used to look at the patterns of the mosaic floor and see different shapes, such as pirate ships, battles, people and so on. The next time that she went back to the same place, she looked for the same objects but she couldn't find them. Growing up, she left the house, but she still kept those memories of the shapes in the mosaic. Many people do exactly the same with the clouds, they observe them and can see different shapes that are not been seen by anyone else.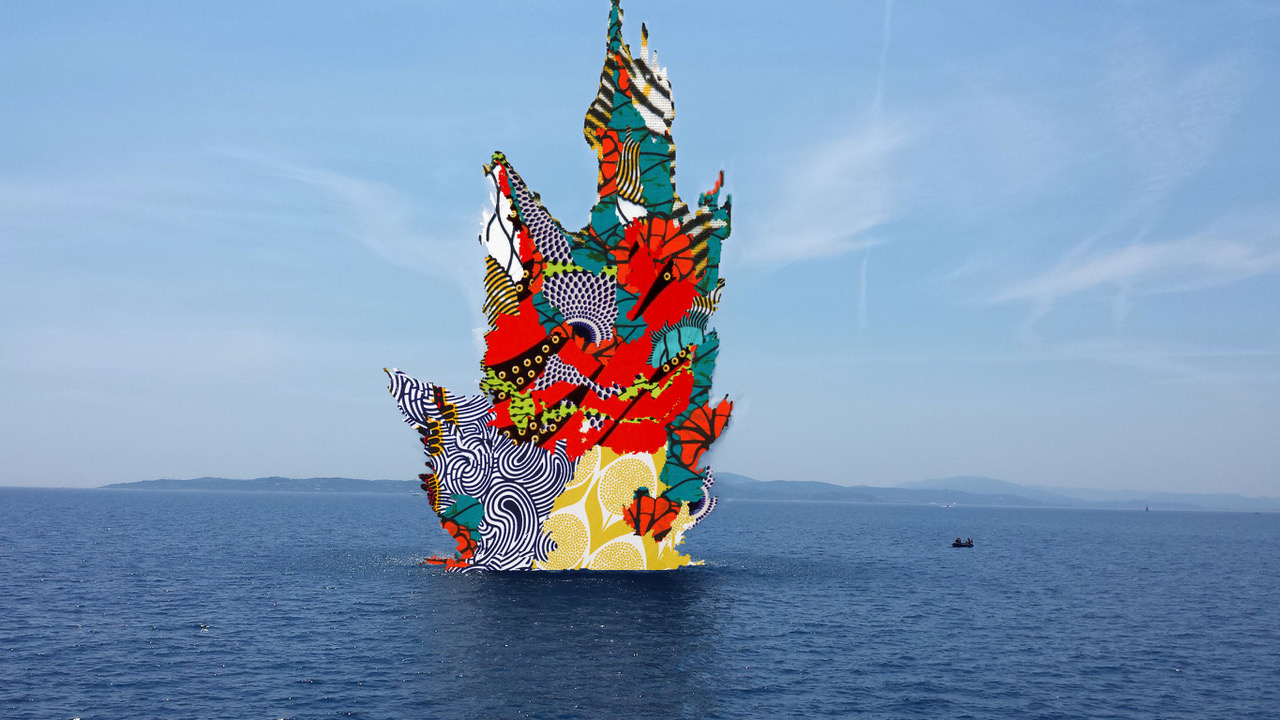 Eirini Linardaki, as an artist and an adult, tried to find a way to create a project that allows people to perceive who they are, which their cultural heritage is, where they come from, how they can see things, and that all these traits are interrelated. In 2019, in the framework of her project she did many workshops around the world and brought many different fabrics. Then, these colorful fabrics are cut and stuck, making magnetic shapes that will be used to create collages on large surfaces. The pieces of the fabrics come from different people and places throughout the world. Some of them originate from countries at war, such as Liberia in Africa and others from Crete, Japan, and so on. Each of these pieces carries its own story and captures the cultural heritage of a country presenting it as a form of art and entertainment.
Eirini Linardaki speaks about her art
This entire idea is based on the artist's view that the things we see depend on where we come from and all of us come from our childhood. In that way, the project allows people to interact and change what they see, making their own artwork in the museum. Due to the fact that children perceive things differently than adults, every time they look at the project, they see different figures, like a rabbit running, a dinosaur and so on. Then, follows a discussion about what each of them sees. The topics are mainly inspired from pictures that represent physical phenomena like volcanic explosions, fires, clouds, sea waves, etc.
The artist speaks about the source of her inspiration. The video is also available with English subtitles
Other exhibitions of Eirini Linardaki
Eirini Linardaki has exhibited in Boijmans Museum, Rotterdam, The Netherlands; Onassis Cultural Center, Athens, Greece; Salon de Montrouge, Paris; Fri-Art Kunsthalle, Fribourg, Switzerland; Natural History Museum, Geneva, Switzerland; Macedonian Contemporary Art Museum, Greece; Hamburg Kunsthaus, Germany, Rutgers University, New Jersey, Institut Français d'Athènes, Greece, Greek Consulate, New York, John Jay College for Criminal Justice, New York, etc.
Written by Argyro Petraki (FORTH), photography and video by Thodoris Evdaimon (FORTH)
References
All images are created by Eirini Linardaki, collected from her website and used with her permission.