Image courtesy of A. Dubois for the Musée des Arts et Métiers
The Conservatoire national des arts et métiers (CNAM) is a French higher education institution dedicated to vocational training throughout life. Founded in 1794, it now offers training courses in the fields of exact, technical and tertiary sciences and delivers more than 13,000 diplomas per year. The Musée des Arts et Métiers, a component of the CNAM, retains an exceptional collection of more than 80,000 pieces and 15,000 drawings that reflect the evolution of science and technology.
As part of the Mingei project, the Musée des Arts et Métiers makes a copy of a carafe dated 1842, made by the crystal factory of Choisy-le-Roi (France). This work is in parallel documented by a researcher anthropologist of the Laboratory "Histoire des Techno-Sciences en Société" (HT2S) of CNAM. The recording of the glass master's gestures using a sensor suit is done by ARMINES Research Centre, in partnership with the École des MINES ParisTech, Paris.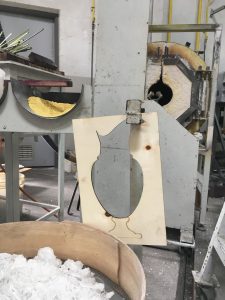 Image courtesy Arnaud Dubois for the Musée des Arts et Métiers.
Last May, the Centre Européen de Recherches et de Formation aux Arts Verriers (CERFAV) began the process of reproduction by taking measurements of the carafe and making a drawing of its profile. The first step was to reproduce the body of the carafe. The master glassmaker donned the capture suit and made a first test to better assess the shaping process. After calibration of the suit, seven recordings were made: for, the picking up of the molten glass in the oven with the blowpipe, the blowing of the gather, and the shaping of the bubble with jacks.
The next step, scheduled for September, will be a longer working session in CERFAV's workshops to replicate the whole carafe. The engineers of ARMINES will also be present for the capture the glass master's gestures. This information will be used to explore ways to preserve intangible heritage (know-how and skilful use of tools) by digitizing gestures for Virtual Reality rendering.